Content marketing is widely used as part of an overall marketing strategy, with 73% of business-to-business (B2B) marketers and 70% of business-to-consumer (B2C) marketers utilizing it.
You must establish regular monitoring and ongoing analyses for a successful content marketing campaign.
This blog post will detail the five best content marketing analytics tools, explaining their essence for any content marketer and how to use them to ensure your campaigns reach their full potential.
What is Content Analytics?
In case you are new to digital marketing, it would be great to touch upon the context of content analytics before diving into the tools. So, content analytics consists of gathering and analyzing data to gain insights into a content marketing campaign's effectiveness.
This analysis allows marketers to measure their efforts regarding reach, engagement, conversions, and other KPIs (Key Performance Indicators).
Content analysts use a variety of data sources, including web traffic stats, social media metrics, and user surveys, to understand how users interact with content.
Why is Content Marketing Analytics So Important?
Content marketing analytics is an essential tool for businesses to measure and track the success of their content marketing strategies. With the right data, organizations can make informed decisions about optimizing their campaigns and reaching their goals.
Analyzing this information allows you to better understand how users interact with your content, what works best, and what doesn't. Analytics provides valuable insights that help your marketing team increase engagement with your target audience by understanding user behavior patterns and preferences.
This data also helps marketers craft more effective messages tailored to specific audiences and create content that resonates with customers to drive conversions.
Additionally, having access to reliable metrics allows businesses to identify what's working and what's not so they can constantly adjust their strategies to maximize their return on investment (ROI).
The Top 5 Content Analytics Tools
Before putting all this information together, we analyzed the tools to provide as many hands-on and quickly applicable tips as possible.
1.    Google Analytics
Overview: Google Analytics is an invaluable resource for content marketers as one of the top content analytics tools. It provides detailed insight into the website's performance. It works by adding a tracking code to the website's HTML, collecting visitor data, and sending it to Google's servers.
This data is then processed and displayed in the user-friendly dashboard of Google Analytics, providing valuable reports that help content marketers better understand their website traffic and user behavior. With its comprehensive analysis capabilities, Google Analytics can be used to acquire helpful insights that can help inform marketing decisions and improve overall performance.
Best Feature: Google Analytics offers a great way to track conversions and measure the success of your content marketing campaigns. With its powerful tracking capabilities, website owners can set up conversion goals, such as form submissions or e-commerce transactions, and then monitor how many visitors complete these goals.
By leveraging this data, you can make informed decisions on optimizing your website for better conversions and create more effective strategies for content marketing.
Price: FREE!
Drawbacks: Some users have raised concerns about data privacy and security, the complexity of the platform, and potential inaccuracies or discrepancies in data. It is important to consider these considerations when using Google Analytics to ensure accuracy and reliability in all your content marketing analytics efforts.
2.    SEMRush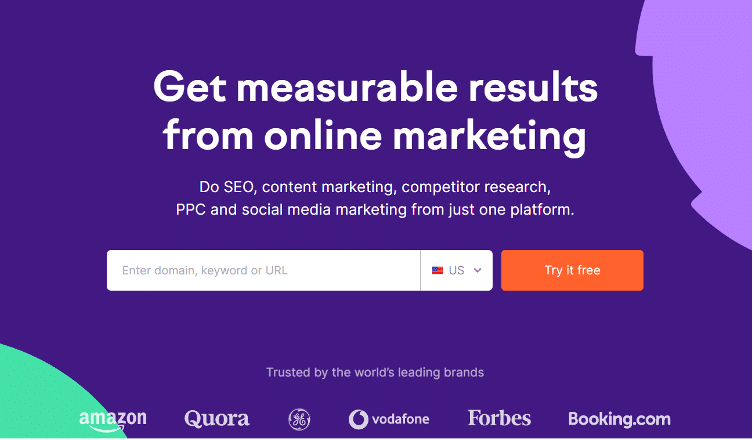 Overview: SEMRush is a comprehensive content analytics platform that offers a variety of tools to optimize website performance and maximize visibility. It allows users to research keywords, run SEO audits, analyze backlinks, track competitors' activities, and monitor social media engagement.
Using SEMRush, you can gain valuable insights into your website's search engine rankings and leverage these metrics to drive more traffic and increase revenue potential. The suite of features offered by SEMRush makes it an invaluable resource for digital marketers seeking to get the most out of their online presence.
Best Feature: SEMRush offers a powerful tool for competitor analysis that provides in-depth insights into the strategies of businesses online. The platform allows you to observe your competitors' traffic sources, keyword rankings, and backlink profiles to determine areas where they may have an advantage or could improve upon.
Additionally, actionable recommendations help users optimize their online presence and stay ahead of the competition by improving their rankings on search engines.
Price: SEMRush has three price tiers: Pro, Guru, and Business.
Pro. Specifically designed for startups, smaller teams, and those new to content marketing, this plan costs US$ 119.95 per month.
Guru. The next plan in line and geared toward larger agencies, the Guru plan, will cost you US$ 229.95 monthly.
Business. The largest plan of all, this level will cost large businesses or enterprises US$ 449.95 each month.
All plans have the option of yearly payment, with the added incentive of 17% savings if you do. Custom plans are also offered.
Drawbacks: Its high cost can be a barrier for smaller businesses or fresh starters.
3.    BuzzSumo
Overview: BuzzSumo is a unique tool for digital content and SEO professionals looking to optimize their content strategies. Its broad features include content analysis, influencer research, topic research, competitor analysis, and content curation.
With BuzzSumo, you can analyze the performance of your existing content, identify popular topics in your industry and top influencers, stay ahead of the competition by researching trending topics, and streamline your content curation process.
Best Feature: BuzzSumo stands out from other content marketing analytics tools due to its capability of furnishing important insights into widely shared material and influential people in your niche.
BuzzSumo overviews how well your content performs across the web and social media and recognizes patterns and topics that engage your readers.
Additionally, this handy tool allows you to research and monitor key influencers in your industry, allowing you to foster relationships, promote your work more effectively, and reach a bigger audience.
Price: Starting at US$ 119 monthly and going up to US$ 999 a month, BuzzSumo has five plans designed to meet the needs of multiple businesses.
Drawbacks: Just like SEMRush, the main drawback to BuzzSumo, cited by most users, is the price. Such a high monthly price may discourage people new to digital content marketing.
4.    Ahrefs
Overview: Ahrefs is an all-encompassing SEO tool for digital marketing and SEO professionals. It offers a suite of features to help maximize your website's search engine rankings, from site auditing to keyword research, backlink analysis, content analysis, and rank tracking.
The Ahrefs tool allows you to identify technical SEO issues, explore relevant keywords for your website, analyze your backlink profile and find new link opportunities, track your search engine rankings over time, and gain insights into your content's performance.
Best Feature: Ahrefs offers an incredibly useful tool for content and SEO professionals — a comprehensive backlink analysis. This feature allows you to analyze your website's backlink profile, including the number of backlinks, referring domains, and domain authority.
You can also use Ahrefs' powerful insights into competitors' link-building strategies to build up your backlink profile and improve rankings on SERPs.
With its accurate and profound analysis capabilities, Ahrefs is a must-have resource for any digital marketer or website owner seeking actionable insight into their online presence.
Price: For startups and hobbyists, Ahrefs will provide a Basic package for the affordable price of US$ 99 monthly. The platform offers three consecutive packages tailored to the needs of consultants and in-house marketing teams, topping out at their US$ 999 monthly Enterprise plan for large organizations.
Drawbacks: Low search limits and limited capabilities on the less expensive plans can hinder smaller businesses or individuals looking to start using Ahrefs. Additionally, the complexity of the user interface may make it difficult for those unfamiliar with SEO or keyword research to take full advantage of this tool.
5.    Adobe Analytics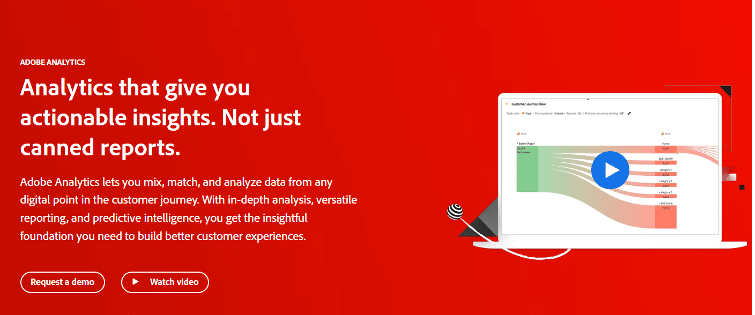 Overview: Adobe Analytics is a comprehensive digital analytics tool that provides users with detailed insights into their website or mobile app performance. It offers various features to help users measure and optimize their digital marketing efforts. These include real-time analytics, segmentation and analysis, predictive analytics, data visualization, AI, and machine learning capabilities.
With these tools, users can track metrics like website traffic and conversion rates and generate reports for a comprehensive performance overview. Also, they can integrate with other Adobe products and third-party services to centralize data, identify data patterns, and make decisions based on those.
Best Feature: Adobe Analytics is one of the best content analytics tools. It stands out for its ability to provide users with real-time data and insights, allowing them to instantly see their marketing efforts' impact.
Its user-friendly interface and extensive reporting capabilities make it easy to generate custom reports. The dashboards give a comprehensive overview of your website or mobile app performance so your organization can quickly adjust or take advantage of opportunities as they come up.
Price: Adobe Analytics comes in three packages: Select, Prime, and Ultimate; however, you must book a consultation to determine the prices based on your business needs.
Drawbacks: While the price is not readily available online for this tool, a common complaint for the platform is the expense. Some users have reported that the tool can be complex and difficult to set up. This makes it challenging for users unfamiliar with data analysis or digital marketing to get the most out of it.
Conclusion
Content marketing is a powerful strategy for businesses that want to extend their reach and increase visibility online. With the right analytics tools, you can track the performance of your content and make informed decisions about upcoming campaigns. However, creating quality content is necessary before considering which analytics tool suits you best. ContentGo connects brands with professional writers who create high-quality content that drives results.
With these five best options in mind and a powerful cloud-based platform like ContentGo, you can ensure that your content initiatives are tracked accurately and reach their full potential.
So why not take action and start creating quality content today?