Outsource blog writing is becoming a popular strategy for bloggers seeking optimal results in viewership and reach. As business owners navigate the myriad of tasks in the digital realm, they recognize the paramount importance of quality blog content to enhance their online business presence.
But there is this nitty-gritty question when it comes to outsourcing blog posts.
Why should you outsource your blog writing?
Building a blog is a gratifying task that can generate more traffic than any other conventional way of marketing. Creating a blog is an excellent investment if outsourced to the right agency. Companies that don't have an internal content marketing team or strategy can approach marketing agencies or freelance writers to fulfill their marketing objectives.
Outsourcing Blog Writing: Factors to Consider 
Before diving into blog creation and outsourcing, it is essential to consider the various factors needed to produce a successful blog and how to outsource it. Knowing the entire outsourcing process in and out helps you keep tabs on what is necessary and what is not. It lets you communicate your requirements to the writer you hire to produce blog content.
Varying Costs
Every marketing strategy carries a price you must pay to make it effective. Experts in the field will help you save both time and money. Settling down for less-expensive alternatives may be effective for start-ups. But if you are a medium-level or higher-level enterprise, you must consider investing in outsourcing opportunities to level up your business.
According to statistics reported by ZipRecruiter, hiring an average content writer can cost you around $40.000 to $60.000 in a year, depending on their experience. You need to consider their writing skills and expertise before you find the right person to do the job. An experienced writer can cost you more but will effectively handle the tasks in the long run.
Outsourcing the blog work to an in-house writer can reduce the time and money spent to search for a freelance writer every time you have a blog requirement and reduce any delays in moving ahead. Whether you hire an in-house or freelance writer, quality content is the top priority.
Consistent Content
Consistency is vital in blog outsourcing, like other aspects of business and life. Extra careful business owners will not let blog creation and outsourcing be another delegated task. They will consider it part of their growth that needs focus and attention at all stages. More than occasionally publishing a blog piece or two, they should plan their timelines and frequency well to stay ahead in today's competitive world.
Importance of SEO and Marketing
You might already know that taking your business online requires calculated marketing research. It necessitates minute details to be considered, like the number of keywords the writer uses, the number of blogs published in a month, the time taken to produce content, and so on. A standard blog requirement should be incorporated with content around sought-after topics and those that can hit the best number on search results. It's a fact that businesses that focus on long-format content, such as blogs, receive more traffic. Using feasible keywords, catchy headlines, and exciting topics will increase your search ranking and brand awareness. You boost existing customers and create new leads through relevant SEO and marketing practices. 
Type of Content Writer
Just as there are different fields in business, the types of writers who focus on writing different genres also differ. For instance, if your brand focuses on apparel, you must hire a creative writer. But you need to hire a technical writer if you are selling software or applications. A technical writer is different from a creative writer.
Before hiring a writer to create your blog, ask yourself: What is their experience in the field you focus on? Do they have hands-on experience which can prove to be fruitful? What are blog topics going to be? Does it require extensive research? Is the writer capable of producing highly researched content?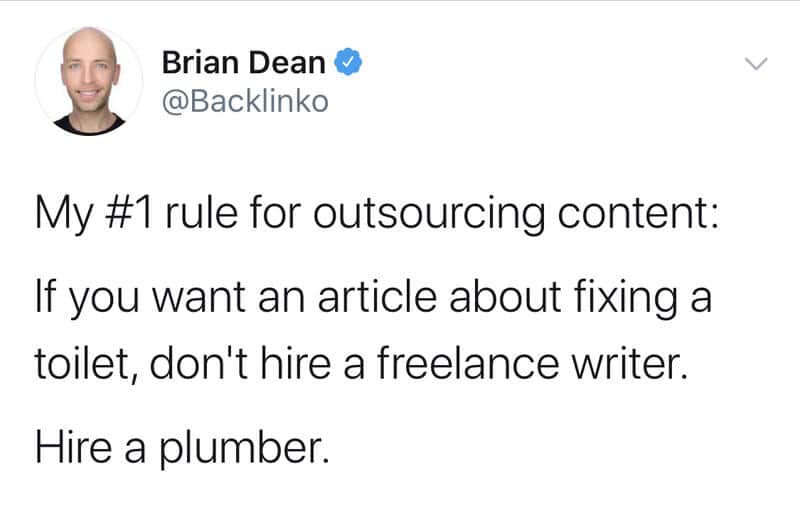 The Tone of Voice for Your Content
Defining the tone of voice for your content is decided by you and not by the writer. If you need a professional tone to sound more sophisticated or a casual tone to build a relationship with the audience, it affects the target audience in a significant way. If the target audience follows your brand and prefers a particular writing style, that is the tone and style you must follow for the rest of the blogs. The writers will have a good sense of the content they must produce by closely watching what works well with their audience and can adapt well by knowing their preferences.
The writer you hire will form the face of your brand. Their writing skill and ideas will make or break your digital presence through their communication with the target audience. For successful blog content, you must determine the tone of voice you want to mimic in readers' minds. Review the content submitted by your writers and double-check if the tone is too intimidating, hurts their sentiments, or brings in sensitive topics like caste, creed, or racism that will spark controversies and tarnish your brand's name.
A good writer will be straightforward but adequately communicate the idea in an inspiring way or in a way that will educate on specific topics essential for them and the business.
Best Ways to Outsource Blog Content
By outsourcing blog posts, you can increase the frequency of blog content on your e-commerce platform. You can ask how many blog posts you need per month with your SEO agency or directly with your content agency and request that the content you need be written on your blog. A steady flow of incoming blog content can change the entire game of your business in its digital performance and statistics.
Here are a few ways to share your blog content while you venture out to find the best writer for your business:
Approaching A Content Marketing Platform
Content marketing platforms have a way of making your tasks smoother and more manageable. They already have experts and many marketing strategies tried and tested with their experiences. Up-to-date knowledge and current blog writing and outsourcing scenarios increase your project's scope. Discuss your preferences on writers, budget, etc., to make your way towards a successful blog outsourcing.
Since the content marketing platform provides this service to different brands in different sectors, it understands your expectations professionally. It offers different suggestions to bring your content strategy to a better point. If you work with a competent content marketing platform, outsourcing blog content ceases to be time-consuming for your company, which becomes an extra burden on the employee. Blog content written with a professional writing team will perform better on your website in terms of SEO.
Inviting Writers Online
Start by contacting people you think would fit your blog well. These could be people who share your interests or have expertise in your writing topics. Once you've identified potential candidates, contact them and provide details about your blog. Be sure to explain what content you typically post and what you're looking for from a guest writer. Guest writers will likely be more inclined to contribute if they know what they're getting into ahead of time.
However, it is worth mentioning that inventing writers online may seem like a very useful method. Still, it creates extra burdens, such as following writers and checking content from scratch within the company. In addition, if it is not checked, the authors may not send the content even though the deadline has arrived. By leaving this workload and following up with an expert agency, you can ensure your content is written more quickly and professionally.
Outsource Blog Writing: Scale Up Your Business
Investing in blog writing can steer you to achieving your business KPIs more than anything else.
Consistent blog writing and outsourcing deliver strong results subjective to the reach and lead generation you want to achieve. Producing high-quality content is always a by-product of collaborating with an experienced writer or platform that works with determination to be a part of your growth.
If you need expert help, trying ContentGo can be one of the best choices you can make for your business. Connect with us, and let's grow together.
in case you want to have deeper insights and evaluate the organic growth of your business, you can book your free power-up call with one of our experts