Making a successful career as a financial advisor may be a daunting task at first. As easy as people think, being a financial advisor involves juxtaposing between sustaining a good relationship with your current client and creating an excellent fresh start with potential ones. How can you reach potential clients in the new world of digitalization? In other words, how can you increase your leads through digital and content marketing? Read to explore what lead generation is and how to generate your leads through the power of content marketing!
What Is Lead Generation?
Lead generation is an action or a plan taken by business owners, marketers, or firms to identify potential clients or customers. Generating leads can be as minimal as talking to people along the road, distributing a company's flier, or advertising on any media.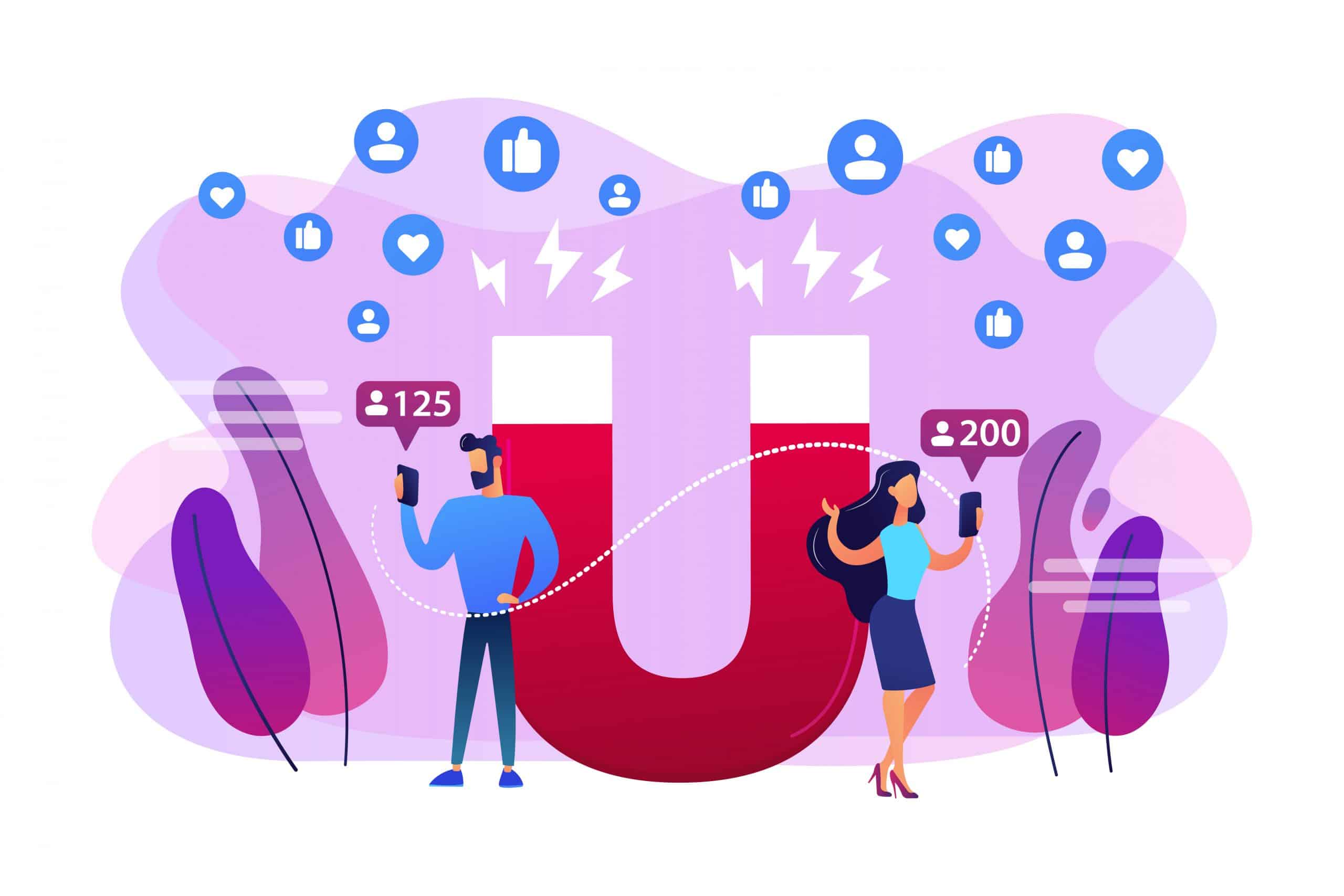 Generating new leads advertising strategy. Aiming at target audience. Attracting followers, follow us on social media, subscriber counting concept. Bright vibrant violet vector isolated illustration
For financial advisers, lead generation is critical to their success. However, it's a crucial point that can't be underlined enough. Most financial advisors – especially those new to the profession – tend to leave out strategies and tactics for generating leads. When starting your business as a financial advisor, keep in mind that you might not find all the strategies working perfectly at once. It would help if you kept trying to get better.
You get to know what works for you and your clients and what doesn't work at all. An important strategy to get leads as a financial advisor in a fast-changing world is the digital strategy. Digital strategies for lead generation include digital marketing, engaging social media content, and more. Read more to learn these strategies and how to implement them rightly.
How to Generate Leads for Financial Advisors?
Create A Good Digital Presence – Deliver Quality
In this digital era of business, especially online content marketing and financial advisor marketing, clients and prospective ones need to be given a level of trust. Your reputation as a financial advisor does precede you. Create a high level of trust and maintain it, creating an excellent digital presence with a professional website, Linkedin profile, and more. In this step, you can have a domain in your name and get started with informative posts to catch the awareness of your potential leads!
Have A Captivating Website
A website entails every detail about a business or an institution. Your business's website page speaks a lot about it. Therefore, you have a visually appealing and easy-to-navigate website. Your brand's colour, logo, and motto should be evident when anyone opens your website. Make sure your website is not overcrowded with words. It would be best to get some infographics that show your business's goals. In general, make your website a stimulating space for your client.
Blog Posts
Regular uploads on your blog post allow clients to read extensively about your services. Your blog post should contain essential tips and basic solutions to financial problems. Your blog is also a platform to get feedback from your clients. Prospective clients see your clients' feedback, and it builds up their level of trust in you.
Reviews
Every potential client wants to hold on to a good testimony about your business. It can only be done through reviews on your websites and blog posts. You should encourage your clients to write reviews about the services you have rendered to them.
Informative Website Posts
A way to establish your career is to give out a free service with informative blog posts or website posts. It may be costly for advisors who are just starting but giving out a free service to prospects will go a long way to making them permanent paying clients. An easy way to give out services for free is to establish a functioning blog or website for your firm. You can write informative free essential tips for anyone accessing your blog.
Webinars
A common digital marketing strategy for generating leads is a Webinar platform. A financial advisor needs to pay close attention to webinars. Webinar sections allow your clients to have an up-close platform to ask relevant questions and have a quick chat with you. Webinars can be in the form of a group chat or live chat. Whichever you choose, ensure that the sections are engaging. Also, have a consistently scheduled date in the month or year for your webinar sections.
Interment Consultation
You can leverage the trust of your new clients to sustain them and get new clients through referrals and social media. However, there are several free consultations on the internet. What makes you stand out from the crowd is identifying unique needs that have not been addressed or are rarely addressed.
Create a free service on your platforms regarding these rare needs, address the issues and provide a solution to the problem. However, as the world changes rapidly, you will need to focus on digital marketing, email marketing that reaches different countries and states. Furthermore, insert your website's link when you write blog posts. Clicking on this link will take readers straight to your website.
Your blog or website is a platform to get feedback from your clients. That will help your prospective clients to have a level of trust in your service.
Email Marketing
Email marketing goes a long way to establishing your presence. Emails are apps people open regularly. Therefore, advertise your service through email ads and email your previous clients consistently.
Actively Engage Social Media
As briefly mentioned earlier. Social media is the new home for online businesses, financial advisories inclusive. That is why you need to establish your presence on social media because your prospective clients reside. Aside from your website, clients and prospective clients want to know if you have a good social interaction with the outside world.
How to Optimize Your Social Media Presence?
Establishing a social media page or pages that put you out there as a financial advisor would go a long way in ensuring the trust of your clients. There is no denying that people want to see feedback from your previous client.
Most precious clients give you feedback and review on your social media. As a Financial Advisor, your presence on social media is not enough. Your prospective clients want to know that you are actively engaged on social media. Here are ways to optimize your presence on social media entirely.
Optimize Your Profile
Frankly, your profile says a lot about your professionalism. Your prospective client views your profile first on all your social media pages. To build a good profile, you need to:
Use your business's name on your profile.
Use a professional profile picture. A picture of you in your workspace will make clients get familiar with your workspace.
Have your official website's link on your profile.
Write your qualifications and remarkable experience.
Have A Posting Schedule
Your social media page is as important as your website page. You need to ensure regular and constant posting on every one of your social media pages. Your social media should not be filled with irrelevances. Refine your page to secure your business alone.
Leverage on Trends
Trending Topics reaches a larger audience. Use trending hashtags on your posts to reach a larger audience. Discuss trends that are relevant to your business on your platforms. It lets your clients know all about your versatility.
Tips for Great Social Media Content
Another aspect for clients to know about your business is providing meaningful content that exhibits your goals and aims. So it can be said that one of the many ways to know people's financial management needs in your career is through social media.
A Concrete Social Media Presence
Creating a substantial presence on social media would make you realize the problems of your existing and prospective clients. It then helps you know where and how to channel your advisory strategies. It allows you to research and work on a new way to solve problems.
Media Survey
However, researching the problems that need to be solved through a media survey makes you realize the routines or patterns that attract your target clients, making you refine your media output. Social media is a leading platform to know these patterns.
Social Media Reviews
While you use social media, endure that your previous customers give you reviews on the services you have once rendered. Also, maintain good social media etiquette. However, your existence on social media tells people that you are not a social outcast and thus can build their trust in your business.
Get Leads Through Existing Clients
Another strategy to getting leads is by maintaining a healthy relationship with your current clients, helping get newer clients referred through them. If you start from scratch with no client, you can build your client from other strategies. If you have an existing client, asking them for referrals could be your way of getting new clients and growing your business.
Financial advisors make a common mistake to assume that their loyal clients would automatically refer other people to them. However, this may not be the case as several people get choked up with their daily lives. Also, they might assume that you have a well-established client base and that you do not require any more clients. Asking them for new clients will help them clear this assumption. Nonetheless, while using this approach, clients do not look so needy.
Tell them how important it is that you want to be of service to people around them. Make your clients see that you care about them. Getting referred clients from your previous clients allows you to impact your ideas and time in a circle of people related to each other, creating a continuous cycle of clients for your business with little or no effort. Asking your client for new referrals could be done through your newsletters or telling them at the end of each section you have with them.
SEO Content
Ensure that your blog post content is search engine optimized. You should realize keywords relevant to your services and use these words in your posts and website articles, enabling your client to find your services quickly when your client navigates the internet.
Backlinks
Backlinks are essential to clients finding your services. Have your website's link posted in relevant, well-read articles on the internet. Your backlinks take clients and potential clients to your website page.
Get Start with ContentGo!
Individuals want to be assured that their finances are in safe hands. It can only happen through the help of a financial advisor. Therefore, you must get a fitting engagement with your potential clients as a financial advisor. To assist the generating new leads, ContentGo executes it rightly for you with high-quality content. ContentGo creates expertly crafted posts for your business and can provide professionally written high-value content in over 15 languages. ContentGo has worked with over 4000 brands, and the excellent track record speaks for itself. You can start from scratch today! Contact us!